Monday, May 8, 2017 1:06 AM
As most of you may already know, Google recently released a new type of captchas: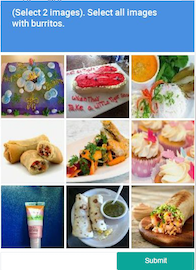 Up until now, there are only two captcha services that support this new type of catpchas: Death By Captcha and 2Captcha. Therefore, RankerX has a separate section to configure the captcha services for this new type of captchas.
To use captcha services to solve Google NoCaptcha automatically, you need to check Enable Auto Google NoCaptcha Solving. Then select the captcha service that you want to use and enter authentication information for it.